10/7/06

Thuy Competing at the
MFHA Centennial Field Hunter Championship
Western Division

An unbelievable day for Thuy and me.
(click here to read about it)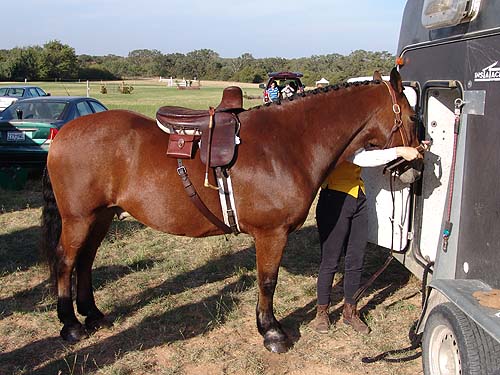 Getting tacked up. Chrissie had braided and cleaned him up before heading over.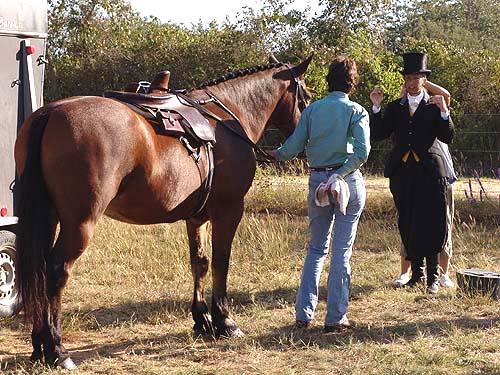 Tons of help getting ready. Chrissie took care of Thuy and mum's behind me pinning my veil to my bun.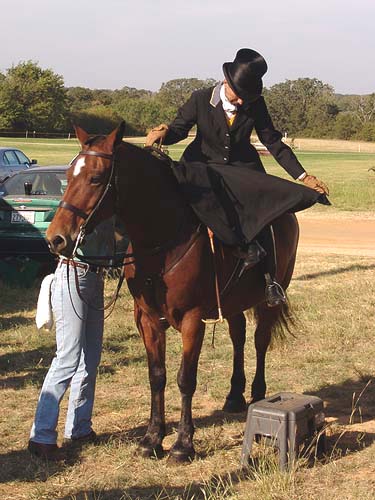 There is a lot involved in getting everything ready for heading out sidesaddle. Just getting settled on the horse is a chore.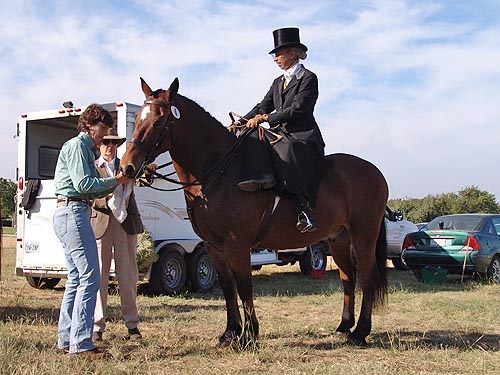 Final bit cleaning under Mary Ann's direction...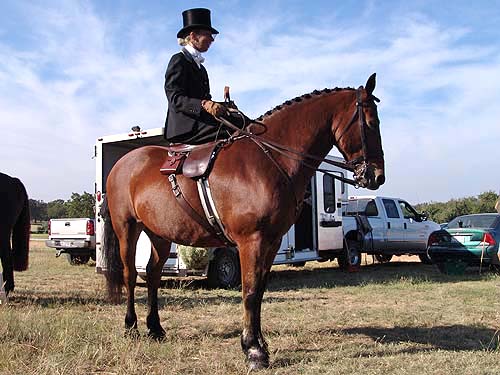 And doesn't Thuy look grand?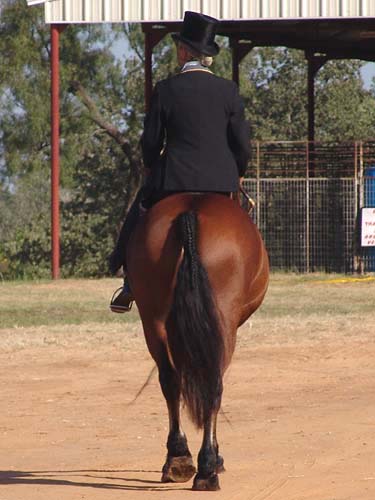 Heading over for the turnout phase.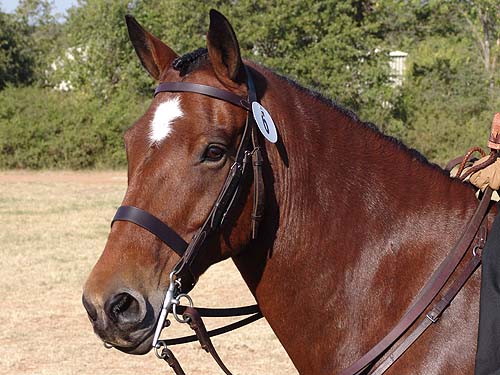 Lovely Thuy, waiting to go in.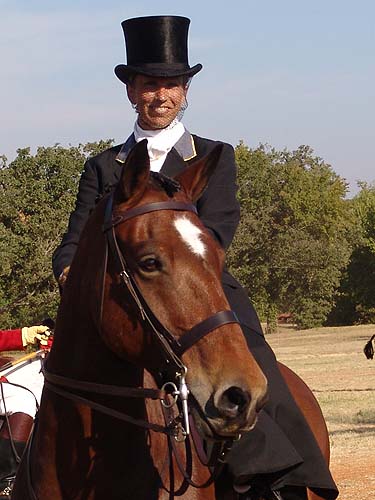 Trying to look elegant.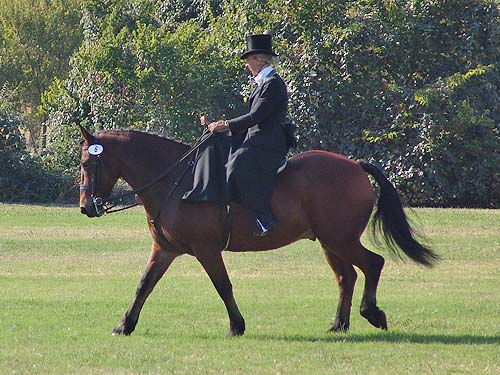 Heading in for the line up.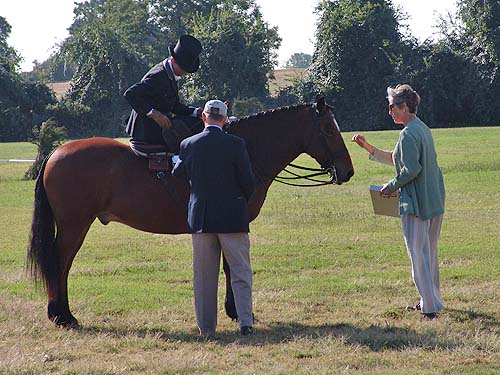 Being judged.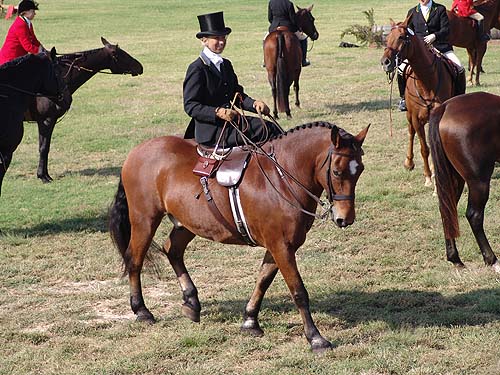 He does stand out (if I do say so myself).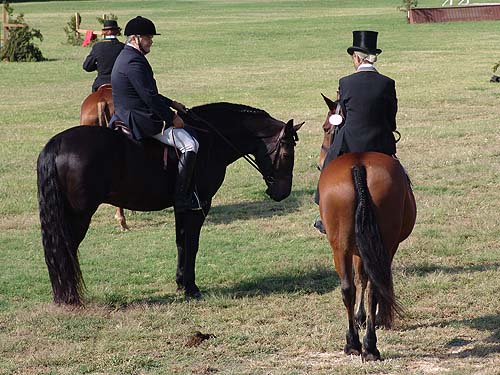 Othello also looked quite glamorous.
The Hickory Creek Hunt entrants. Sharon on Simon, David on Othello, me on Thuy, Scot on Slim and Chris on Sophie.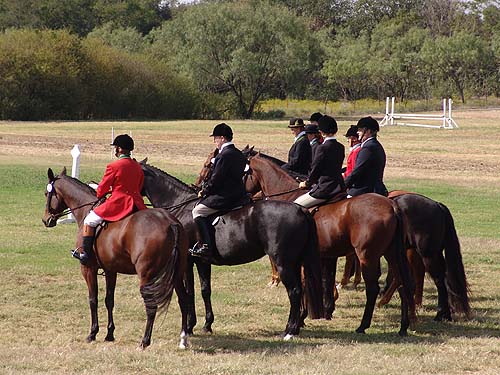 It was so nice that all the Hickory Creek Hunt members made the final turnout cut.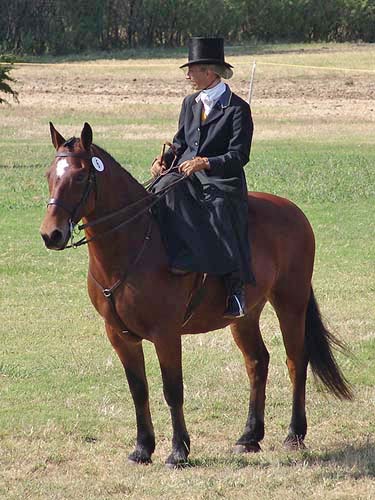 Thuy posing for the cameras after they announced us 1st place for the Turn Out phase.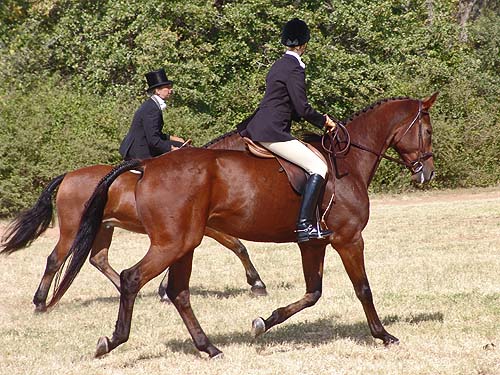 Heading back to the trailers for a quick tack change. That's Sharon on Simon trotting along with us.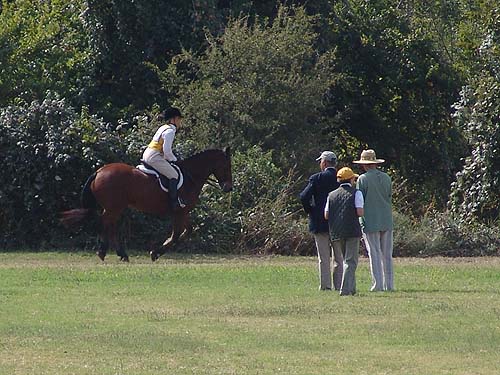 Being judged in the hunter hack phase.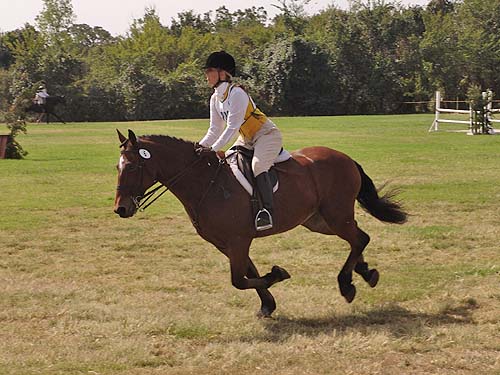 We were called back and participated in the gallop around the field.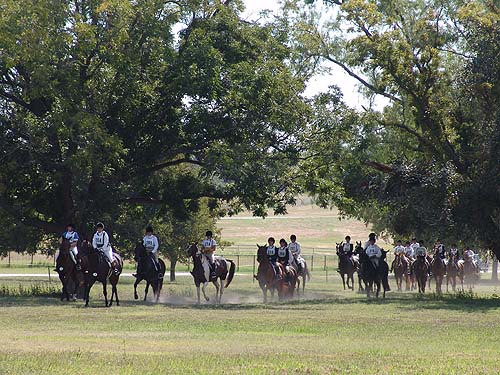 The mock hunt phase. There were 20 people out in the field.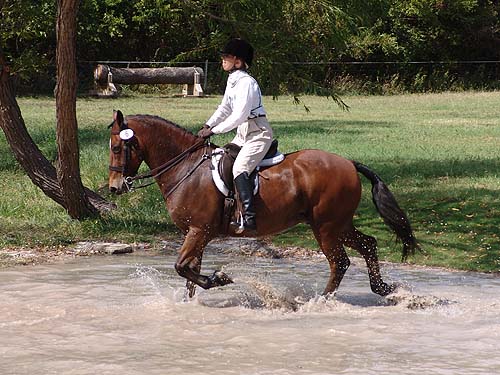 Trotting through the water.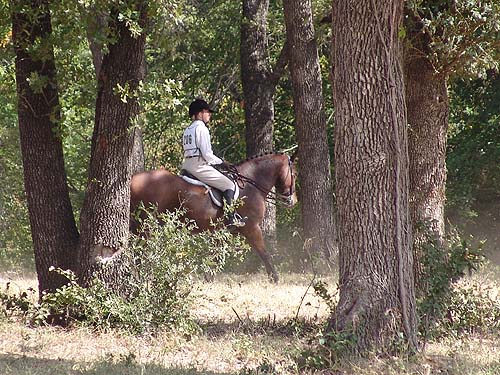 Catching a glimpse of us through the woods.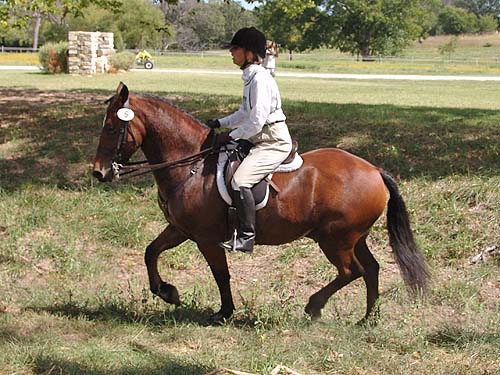 Trotting past the crowd. The temps were in the 90s and I was really wilting.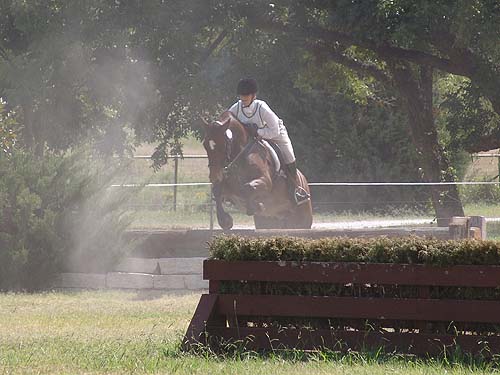 The dust was horrible. Going through the woods, there were jumps that we couldn't see until 3 strides out, when the horse's rump in front of us went over it.
Most of the jumps were taken from a trot, but sometimes we got spread out enough that we could have a nice canter or gallop over.
Personally the mock hunt was a blast. Thuy and I really enjoyed ourselves.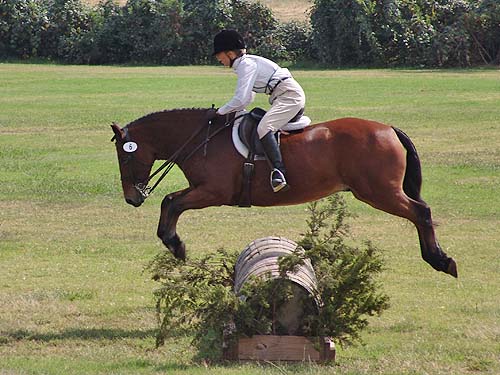 The final phase and Thuy was still strong and feeling good.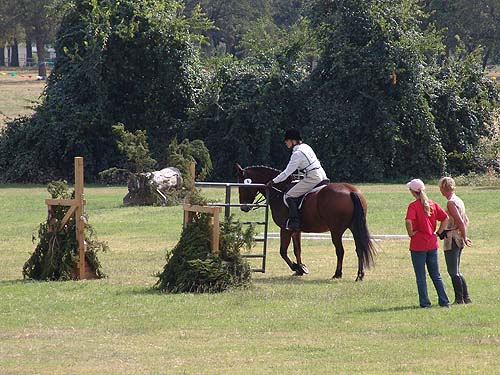 Hunt horse that he is, when I got him to the gate and unlatched it, planning to keep a hand on it and swing us through, he thought I was having trouble getting it to swing wide quickly, and he pushed it all the way open with his head.
So, we went through, and he happily let me walk it back and latch it. One of the gate tenders said that if he'd have had hands, he'd have shut it for me.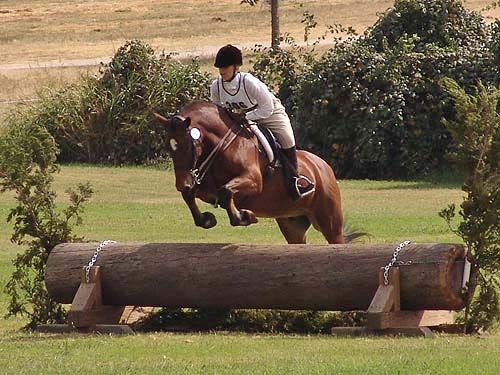 We haven't done a course in years. I'd forgotten how much fun it is.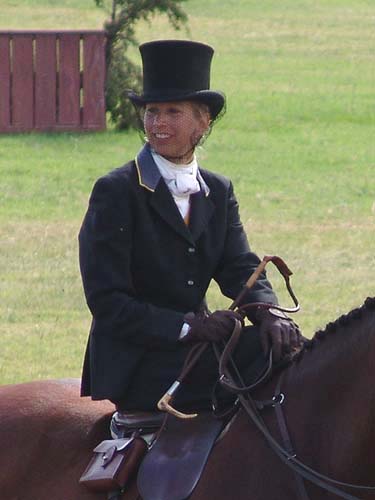 Another tack change, and ready for the awards ceremony.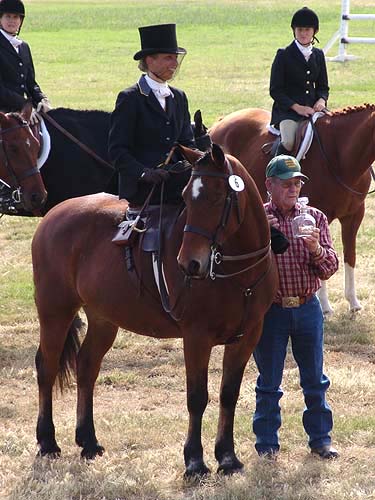 Receiving the crystal decanter for Best Turned Out.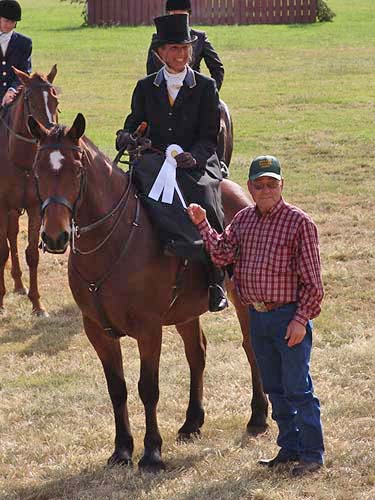 The biggest surprise.
Receiving 4th place overall and qualifying for the finals in VA.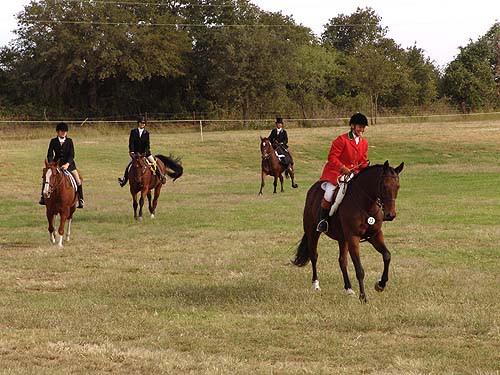 The victory gallop for the top 4 placings.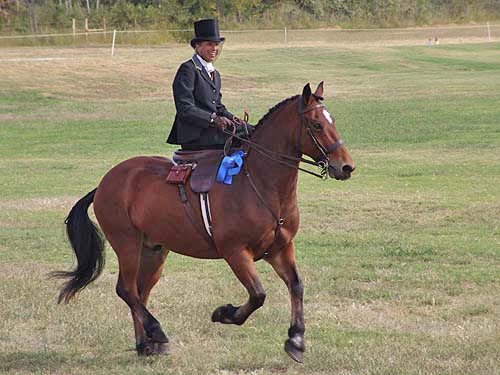 Victory gallop on my wonderful horse.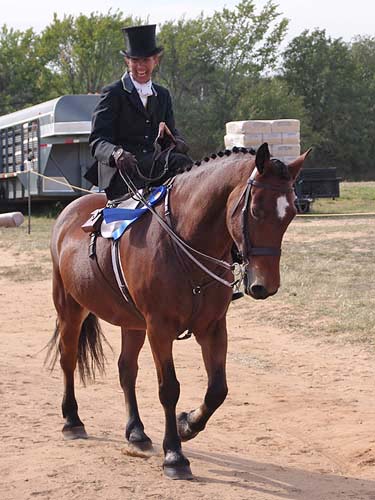 It was an amazing day.