5/27/07

Thuy competing in the
MFHA Centennial Field Hunter Championship
at Morven Park in Virginia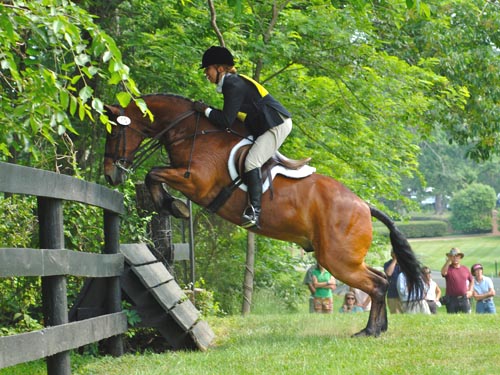 (photo by Jordan Koepke)

Thuy and I had the best time. Our support group was wonderful
and the trip was exciting where you'd want it exciting, and uneventful
where you'd want it uneventful.
Thanks to Bart and Sharon and Lou and Jeremy for the lovely pictures.
Thanks to Jan for planning a wonderful week for us and lending so much
to everyone that needed something.
Thanks to Rhonda for the awesome braids and the appointment extras.
Thanks to Kiola and Lou for coming out and supporting us.
Thanks to all the passers by who recognized Thuy or me and said hi and good luck.
I'll post other pages with our trip up and back and the lovely trail rides we took.
Here's Thuy and I at our peak....

Click here for a link to pictures from the rest of our trip to Virginia

Click here to see a video of the field going over a jump (we're towards the end)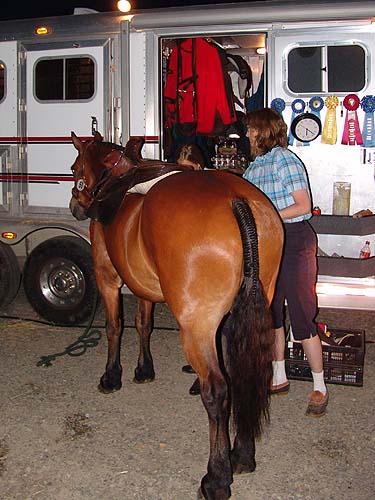 A very clean Thuy getting tacked up by headlights. Our wake up call was 4:30 am. After getting ready, we knew I had a 15 minute ride over to the competition grounds for a 6 am check in. Everything went according to plan.
Oh, and look at that tail. Rhonda did a wonderful job.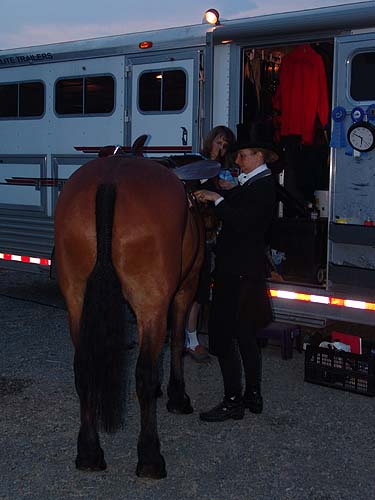 Tightening the girth and almost ready to mount up.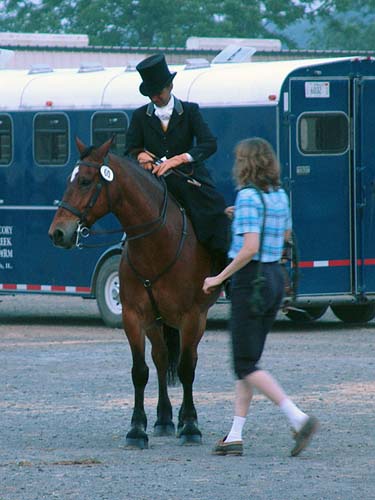 Sharon giving a last minute check before she drove over and Thuy and I headed out.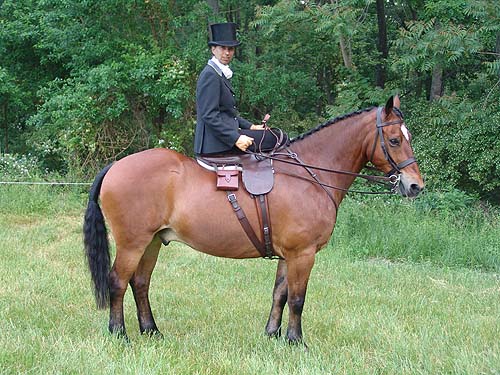 Trying to look proper.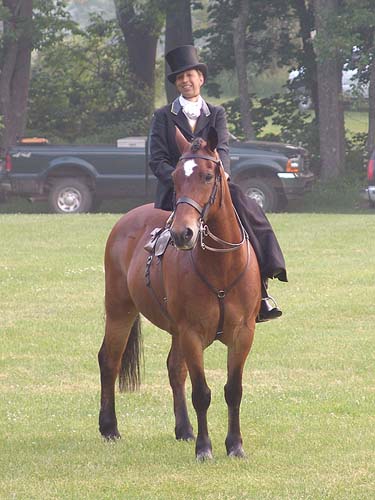 Lining up on the green.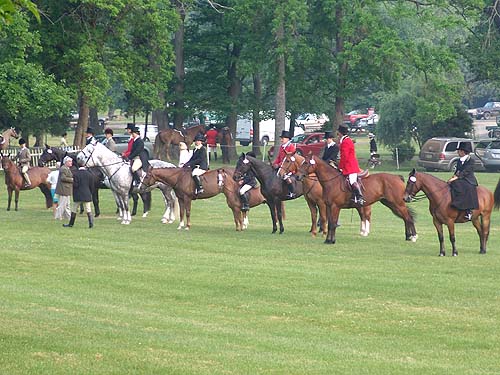 There's us on the far right.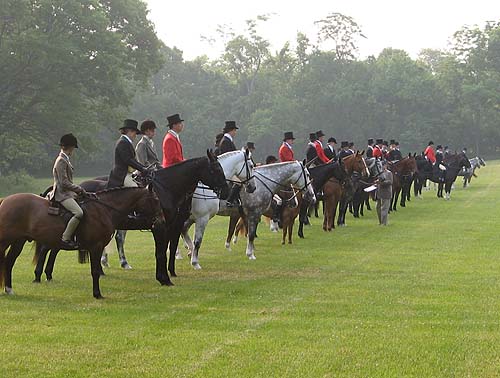 A stunning group of horses. There were 30 in the turnout phase.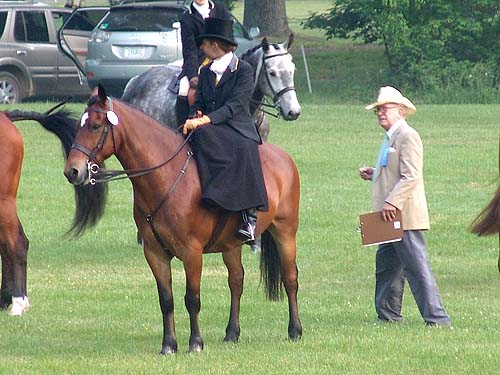 Being judged.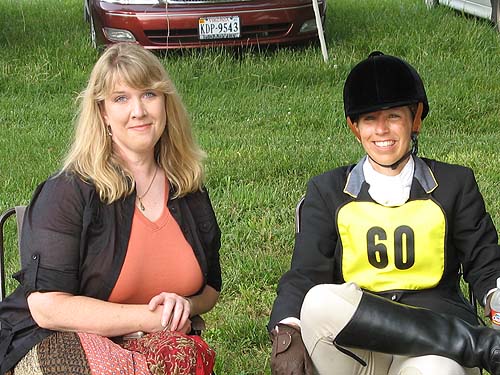 Relaxing with Kiola after the turnout phase.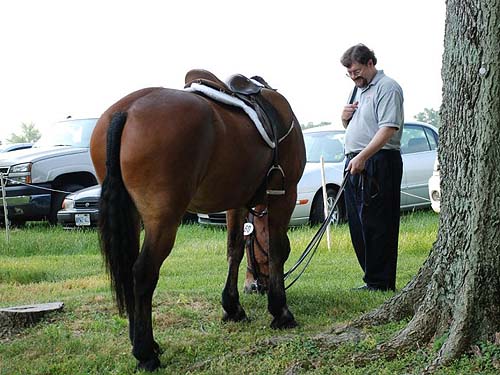 Bart holding Thuy. There was a fairly long wait for the 2nd group, so we let Thuy graze and be happy.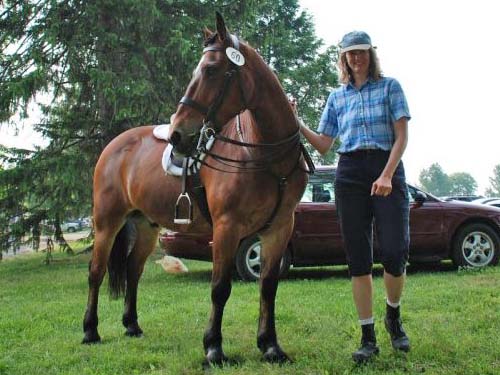 Sharon was outstanding as groom. She always managed to be around.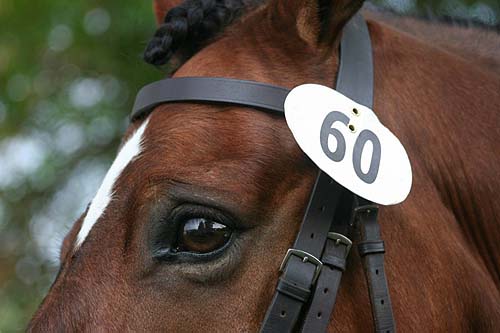 Thuy psyching himself up for the competition.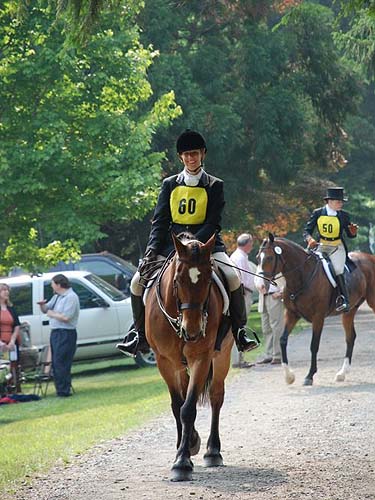 Ready to head in.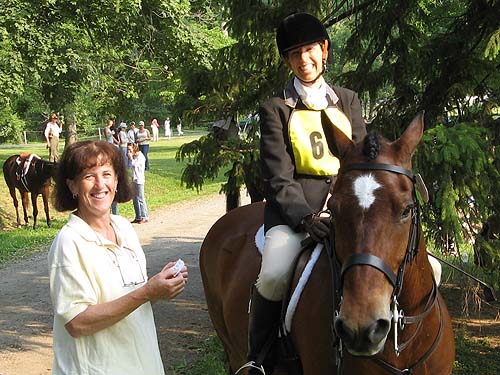 Meeting people from the internet was so nice.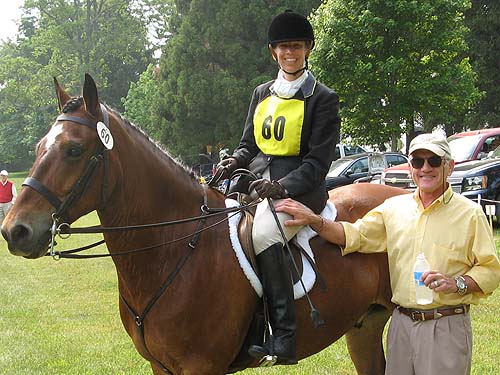 Posing with Scot.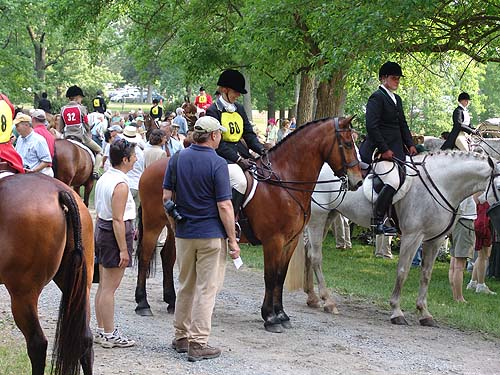 Talking about Thuy with people in the crowd.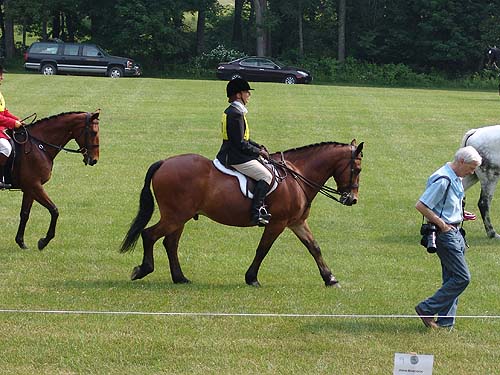 Being judged in the hunter hack phase.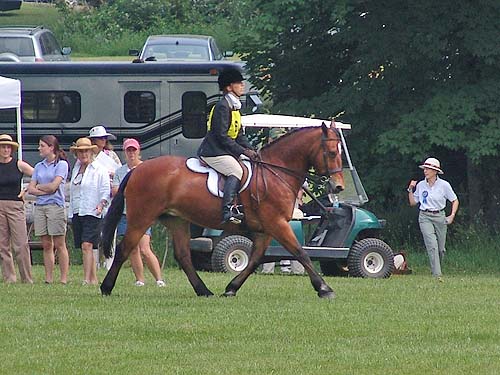 Such a cute cobby guy.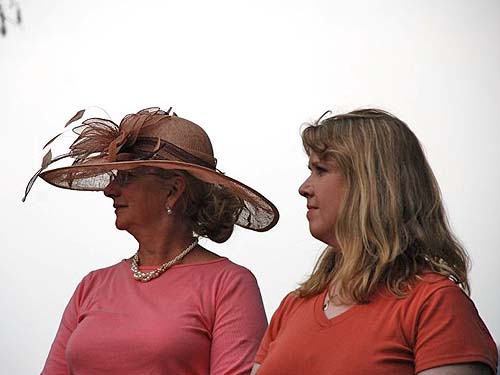 Jan and Kiola looking on. Isn't the hat wonderful?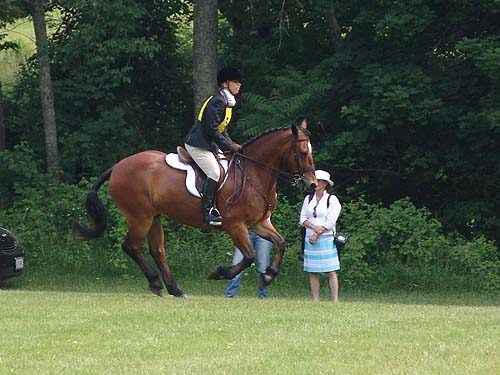 And the canter.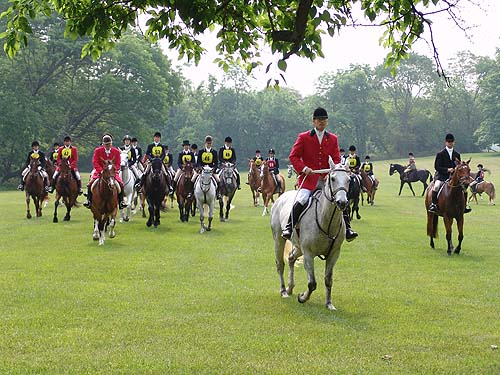 Heading out on the mock hunt.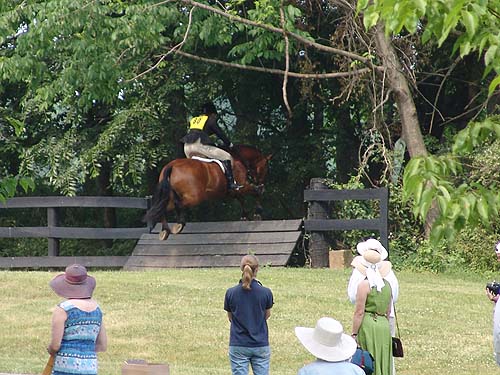 Over the first fence.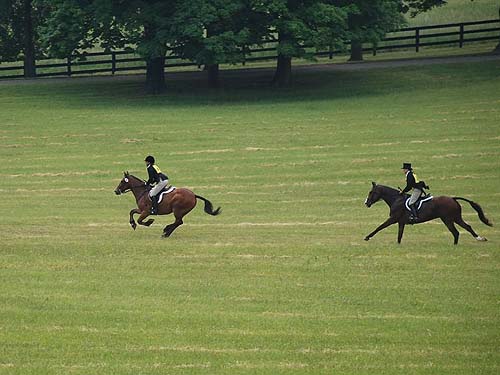 Galloping past the spectators.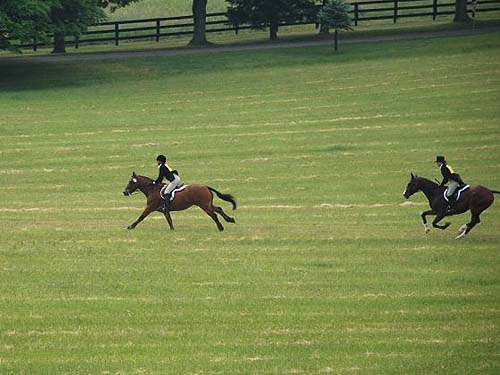 Thuy and I had some fun on this run.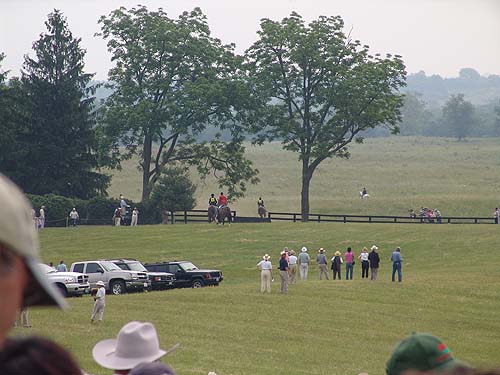 On to the next fenceline jump.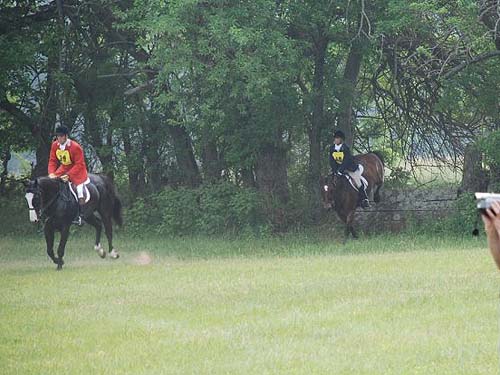 Jumping into the next field.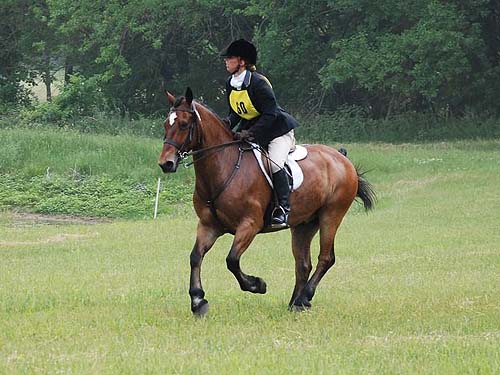 Cantering on to the water.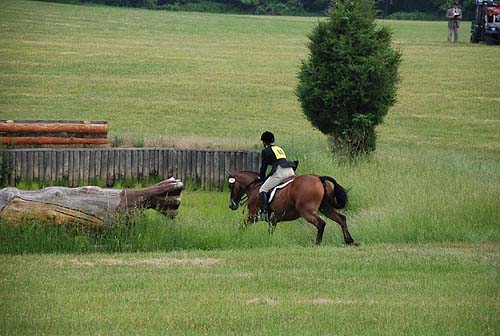 Into the water.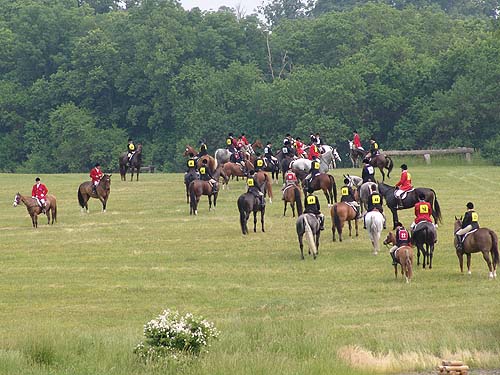 Waiting at a check.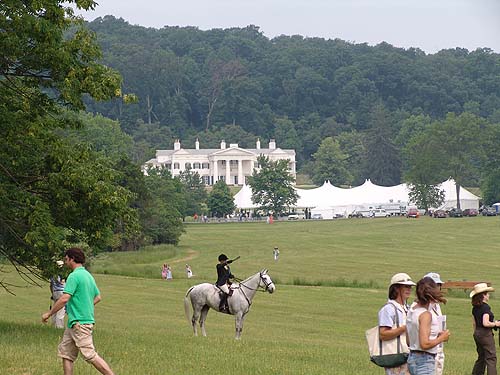 The view from the field.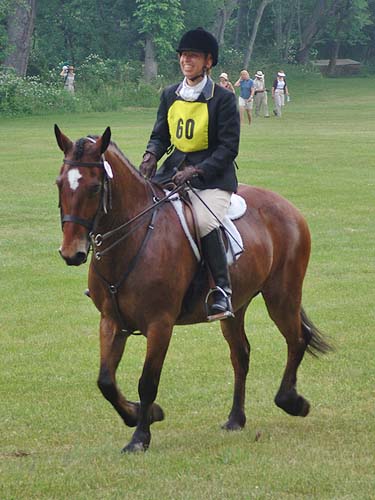 Coming back for the line up. Thuy was looking for the next fence.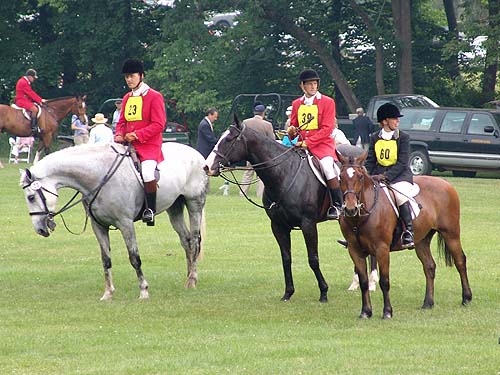 We had a good time riding behind the gentleman on the black horse.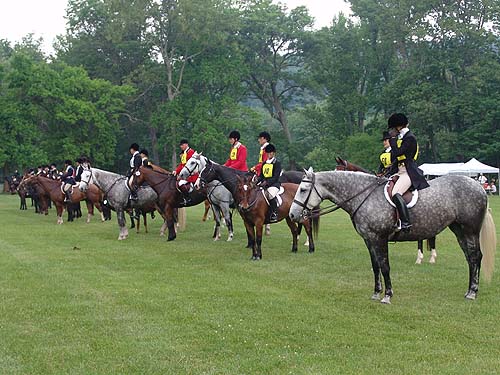 Thuy held his own with the big guys.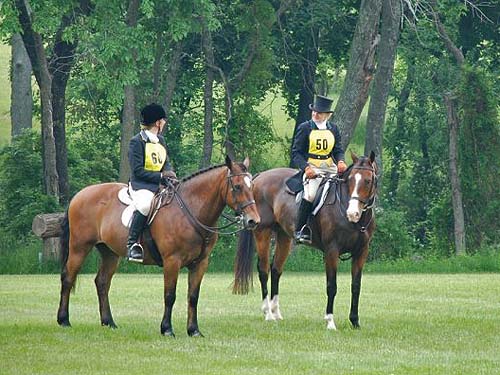 Talking with another competitor during the lineup.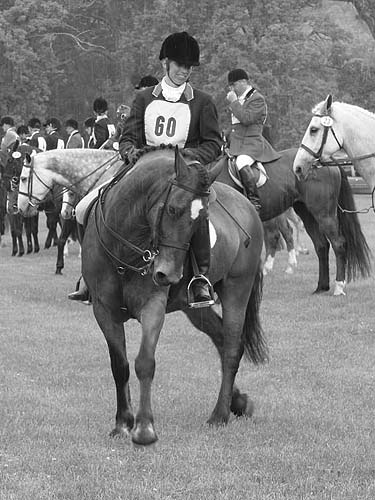 No ribbons for us, but we had a great adventure....