S C O T L A N D : D A Y 8

AUGUST 26 (Saturday) -- Kyle of Lochalsh to Inverness
The next morning dawned gray and gloomy--perfect driving weather. I convinced Ann and Beth to stop briefly at Eilean Donan Castle, the headquarters of the Clan MacRae, who--until it was destroyed by the British during the 1745 Jacobite Rebellion--held it for the McKenzie clan. (It has since been restored by the MacRaes.) We wandered around outside it in the chilly morning air for a while, then drove east toward Inverness.

Eilean Donan Castle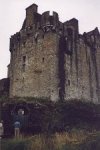 Eilean Donan close-up
Our eastward drive to Inverness through the central Highlands was one of those times when it was difficult to focus on driving, as the dramatic scenery around us demanded attention.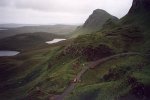 The Highlands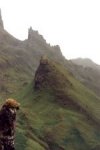 More of the Highlands
Eventually we came to ruined Urquhart Castle, near Drumnadrochit by Loch Ness.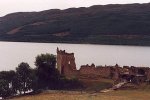 Urquhart Castle
The castle, built of weathered ochre stone, rests on a low spit of land at the loch's edge. (It does today, anyway; the waters of the loch rose 50 feet when Thomas Telford's great Caledonian Canal was built.) Each of us split up, taking turns clambering over this or that bit of rock and climbing up the narrow spiral staircase into what remains of the southern tower. (Passing others going down this stone staircase as you are going up turns out to be a good way to become intimately acquainted with them.)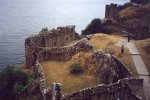 Urquhart Castle from its tower
The tower, which is about three stories high, afforded a fine view of the loch, whose dark and reflective waters stretch for miles in either direction between two lush green ridges.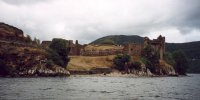 Urquhart Castle from Loch Ness
After a suitable amount of time spent exploring the remnants of Urquhart Castle, we drove to the nearby site of the Glenurquhart Highland Games being held that day in Drumnadrochit.
The day had cleared up, so everyone scattered and watched as the games began. Pipers marching up and down the track opened the day's events, which was followed in short order by a bicycle race, the hammer toss, and what would be an ongoing exhibition of Highland dancing. For some reason, everyone in the group seemed a bit dispirited, as though all the traveling was beginning to tire us. We left the games; we milled around on the roadside for a while; some of us wandered off to try to find food; we went back to the games... it was all a bit random.
Finally someone had the good idea to see if there were tours of Loch Ness available. We soon found ourselves at the Loch Ness Monster Exhibition Centre, which was not as dreadful a tourist trap as it might sound. Yes, there was the requisite enormous plastic Nessie mounted atop the entrance to the cafe, and a more than modest gift shop, but at least the place was attractively built, blending in with the countryside far better than several places I can think of in the States. I managed to sneak in a quick lunch while no one was looking, then we were off to Loch Ness. Our driver and tour captain turned out to be a dour Scot with what was beginning to look like a typical low-key sense of humor--at one point, he informed us that Drumnadrochit was sometimes referred to locally as "Drunkendriver." With that pleasant thought in mind, we boarded the small tour boat and set out onto the loch in search of monsters.
We saw none.
On the other hand, we were treated to a spectacular view of a rainbow at one end of the loch, glowing over one end of the peat-darkened waters.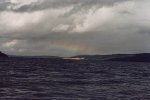 Loch Ness
Somehow everyone's attitude seemed improved; we found ourselves joking around with one another again. Tricia wandered off into the cabin, presumably to pester our captain to find Nessie without any further waste of time. Meanwhile, the rest of us huddled together in the open back of the boat with a few other hardy souls, the wind whipping up the water and bursting spray into our faces. Our captain protested over the intercom that Nessie was so hard to find because the peat suspended in the water made searchlights useless, but we didn't mind. The wind and the waves worked their magic on us as they have on humans for untold millennia, calming our jangled nerves with the rhythmic splash of clean water and the spangle of sunlight on the slate-gray surface of the loch.
The teasing fingers of cold breezes still in our hair, we returned to the docks. What happened next could only have been divine retribution for the Pinching Incident earlier on Skye. As Bill and I stepped onto the gangway, we could see that Tricia had discovered the swans which were nagging tourists for food. Coming up from somewhere with what looked like bread crumbs, she began to feed the swans, which naturally clustered around her for their share of the goodies. Bill, ever alert to a good photo opportunity, quickly began videotaping this teatime treat... and so captured on videotape the moment when one of the swans decided that if the bread crumbs Tricia was offering were good, one of her fingers might taste even better. I was quite impressed with how high she was able to jump, and I think I learned a couple of interesting new words.
My comment to Bill was, "I can get a copy of this, right?"
Soon we were all back on the road again, and we found Inverness without any difficulty. Finding Moyness House, our B&B, proved more problematic. But once we arrived, we felt right at home. In fact, one of the two buildings that made up the B&B was apparently the home of our hostess's daughter and her husband.
I would have been content to have a quick nap at this point, but it was not to be. Instead, I did my usual puppydog-like tagging-along act with the gang as they went walking through Inverness. This was nice until it began to rain. Taking refuge in a grocery store, we decided that we'd had enough of going out to eat for a while--why not buy some food and make supper? So, while we tried not to drip too much on the floor, we prowled the aisles, trying to find things we 1) recognized, and 2) could make edible without requiring the use of a microwave. After a few minutes of panic at my complete failure to find anything satisfying condition number 2, and an unwillingness to risk ignoring condition number 1 (I elected not to have the "spotted dick," for example, even though I knew it was some kind of dessert), Beth calmly pointed me in the direction of the pre-made sandwiches. I somehow resisted the temptation to simply grab an armload of everything in the cooler--just in case--and with my selections finally made, we squinched back to our rooms.
The feast we put together turned out to be a lot of fun. It was one of the few times that we were all together in a place where there wasn't a lot of extraneous noise around us. I could hear what people were saying. (Sort of the reverse of Gin's situation; I have a great deal of trouble understanding what people are saying in conditions where there is too much sound. I just don't handle it as well as she does.)
Later, I began badgering the group to play a game of Hearts with a new deck of cards I'd bought for Tricia at Dunvegan Castle to replace her half-Canasta deck. I thought it might be a fun way for Ann, Tricia, Jon and I to get to know one another better before Jon had to leave on the following morning. This turned out to be one of the wildest games of Hearts I'd ever played. Not only did the lead keep jumping back and forth, not only did I manage to sneakily "shoot the moon" (to no one's surprise more than mine), but the conversation soon turned somewhat risqué. Little did I know I was playing Hearts with the infamous "JoJo Lady" and her surprisingly unembarrassed target. (It seems Tricia had made a bet with Jon in a bar the night before. "I'll bet you a pound I can touch your jojo without you taking your pants off, " she said. "You're on," Jon grinned. So she reached out, grabbed him below the belt, then flipped him a pound coin with a cheery, "Gee, I guess you were right.") Jon was so unembarrassed that he managed to beat us all at Hearts, so we called it a night.
My clothes were finally beginning to dry out. But given the interesting new aroma they'd developed, I wound up washing them again.